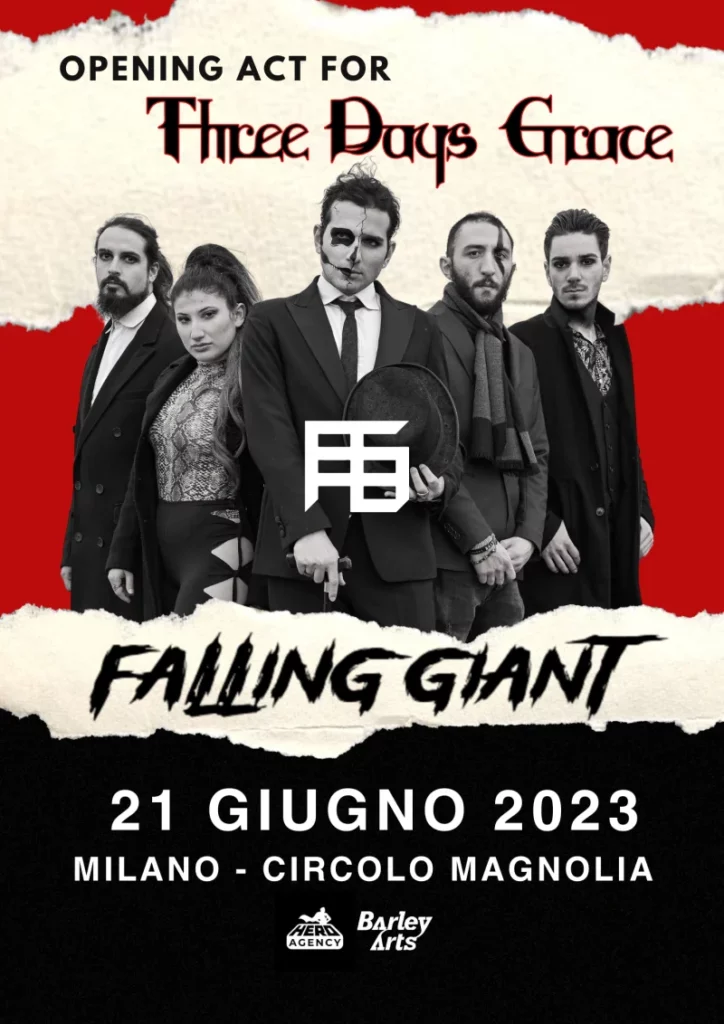 Experience the mesmerizing allure of Falling Giant Band!

We proudly took the stage as the opening act for the internationally acclaimed 'Three Days Grace' at the Circolo Magnolia in Milan on June 21, 2023.

Our journey has been remarkable, including the unforgettable night of October 2, 2022, when we had the honor of sharing the spotlight with '10 Years' as we opened for Three Days Grace in Bucharest, Romania.

This event resonated deeply with our audience, etching cherished memories in the hearts of all who attended. Defined by our theatrical, sensual, and dark aesthetic, our music encompasses a captivating blend of sweet warmth and biting intensity.

With a distinctive voice that evokes emotion and tightly woven, melodious rhythms, we've captivated fans both within Italy and beyond.

The Circolo Magnolia concert in Milan was a pivotal moment in our journey. It marked our debut performance in the musical heart of Italy, a city renowned for its rich musical heritage.

At the heart of our performance were melodies from our album 'MMXVII MMXXII', as well as exclusive previews of unreleased tracks that give a glimpse into our forthcoming album, slated for release later this year.

For the latest news, updates, and a calendar of our upcoming shows, we invite you to explore our website regularly and join our mailing list.

Stay connected, stay engaged, and most importantly, Stay Demon!

Thank you for your unwavering support, and we look forward to sharing more musical milestones with you in the near future.